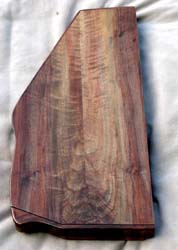 Trim wood for the Freedom 'Harp and backs if the back is to be wood
can be maple, cherry or walnut. Other woods such as bubinga and African padouk etc.
are used on request when available, often at an additional price.
We do not use sensitive rain forest woods harvested under poor ecological practices, but
we do work with legal exotics from managed plots.

Freedom 'harp Pricing
Standard on all Freedom model d'Aigle 'harps:
Our patented Flat Line fine tuning system covering all 37 strings
Super quick change chord bar holders (on Cascade body style only)
Speed Bar permanently mounted mylar spring system
Satin highest quality instrument grade lacquer finish
Easy maintenance aluminum extrusion and wood chord bars
Composite frame bracing
Built-in leg rest
Strap buttons installed or sent with your order
Limited Lifetime warranty for defects in materials or manufacturing
(does not cover strings or felts, normal wear, or damage caused at consumer end, including environmental damage).
d'Aigle Freedom 'harp with standard features and d'Aigle soft shell case:
Some of the Optional Features:
Extra chord bars ordered with purchase, cut or uncut felt, each

1-5 $25.00 each, 6-10 $20.00 each, 10+ $15.00 each

Lock bar sliders installed for lock bars
$20.00 extra, each bar
Extra chord bars with lock bars, each
$40.00
Built-in electronic magnetic pick-up
$198.00
Oversized buttons, such as on d'Aigle 'harps without quick change bars
No extra charge
Clear pick-guard
$25.00
Case: Comes Stock with d'Aigle Soft Shell Case. You may upgrade to a hard-shell case for $65.00.

For other options,
See Autoharp Cases
You may contact us directly, or begin an order by filling in the order form below.
We require a $200.00 deposit, the balance due when the 'harp is ready to ship. You may contact us directly to put down a deposit by check or credit card, or you may pay with the 'Add to Cart' button located below the order form.
You may also pay on a "Lay Away" plan if desired.
We do ask for payment before shipping. Shipping costs for an autoharp will vary, and during cold months we ship 2nd day air for safety. Average shipping costs run between $40 and $120 dollars, including packaging and insurance, depending on where you are and whether we ship ground or air. Out of country shipping varies.
After submitting the form we will be in contact with you shortly to discuss the entire process. You are not tied in, you can make any changes, additions or deletions before we confirm the order.